Ready Set Dive Project: Funding Adaptive Scuba Diving for the Handicapped since 2017!

The project is named for the divemaster command "Get Ready, Get Set, Dive!" to get all divers in the water safely. The project maintains this attitude of being ready to dive, set to go, and into the water for adventure for adaptive diving for the physically handicapped. The Ready Set Dive (RSD) Project's aim is to help support the extra hard and soft costs an adaptive diver has learning scuba, traveling for diving, and diving. An understanding of the audience for this project can be gained by reviewing the goals and activities of several key organizations: The Handicapped Scuba Association (https://www.hsascuba.com/ ), Dive Pirates Foundation (https://www.divepirates.org/ ), International Association for Handicapped Divers (https://www.iahd.org/) and DiveHeart (https://www.diveheart.org/).

New Project Proposal
Ready, Set, Dive is both a deliverable program and a research project. It will deliver scuba diving education and experience to people with paraplegia who want to dive. It provides opportunities for researchers to study the positive outcomes for those divers including psychological, sociological, and physiological. Scuba diving has been shown to be beneficial in several ways, and through program development and research, we can fine-tune how to deliver this great experience to a broader community.
There already exist many of the pieces that will ensure success in both program and research. Ready, Set, Dive has as its main goal to pilot how these pieces can come together in an easy-to-administer system that can be replicated and repeated. By documenting the procedures and resources needed, a program manual will be created for implementation at the original site as well as worldwide. The research, then, becomes both longitudinal and geographically diverse adding power to conclusions.
The three key elements of Ready, Set, Dive are:
Handicapped Scuba Association instruction. (https://www.hsascuba.com/body/dive.php) This is a standardized method of teaching divers with disabilities as well as dive buddies who act as helpers during dives.


Research based on the work of Shintaro Kono, Ph.D., assistant professor in the department of kinesiology at the University of Alberta. He co-authored An Exploratory Study of Adaptive Scuba Diving's Effects on Psychological Well-Being among Military Veterans https://doi.org/10.18666/TRJ-2020-V54-I2-9954 (https://www.ualberta.ca/kinesiology-sport-recreation/news/2019/august/meet-shintaro-kono.html) While this research was regarding PTSD, much of the background applies to spinal cord injuries.


Administration and Leadership under the direction of David Smith, Ph.D., Open Water Scuba Instructor, and president of Oahu Adventures Foundation, Inc. (Oafound) which is a sponsoring 501(c)(3) organization for Ready, Set, Dive. (https://oafound.org/ready-set-dive)
The current thinking for how the program will work is:
Location: Waianae, Oahu, Hawaii at Underwater Oahu (https://underwateroahu.com/) This dive operation is experienced with HSA instruction and has the facilities and support for the program.


Participation: Four non-divers with paraplegia and four certified divers to be trained as "dive buddies". We will recruit locally to facilitate participation and also provide for the longitudinal study and additional training as desired.


Timing: September 2022. This will allow enough time to pass for Covid to be a much lesser concern. This is also a good time to dive West Oahu for weather and sea conditions.


Calendar: 2 weeks of instruction, practice, and diving. The first week is primarily buddy diver training and practice. The second week is primarily new diver training and practice with dive buddies assisting.


Cost: Total cost is in the range of $40,000 for the three weeks depending on what will be included, what will be purchased, what will be rented, what will be the expected contribution from participants, and what research costs. The expenses will be broken down and funding applied for as appropriate. Some of the cost goes to equipment that can be used in subsequent iterations. Some of the cost is not necessary, but desirable. Some of the costs could be borne by students and staff.


Publicity: It may be possible to utilize the resources of the Academy of Creative Media at the University of Hawaii – West Oahu campus. They could provide student-powered live-streaming, blogging, and documentary production of the program. Other resources could be used as well.



Funding: grants may be available for various purposes and will be explored through personal contact, organizational referrals, and Grant Station research. At this time, we are in search of a sponsoring 501(c)(3) or other appropriate organization, not for funding, but for oversite, advice, and administration. Donations received would reimburse the sponsoring organization.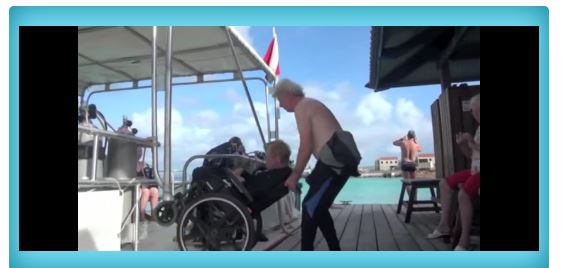 Watch the Video "Linda Scuba Dives in Bonaire" from the Handicapped Scuba Association.